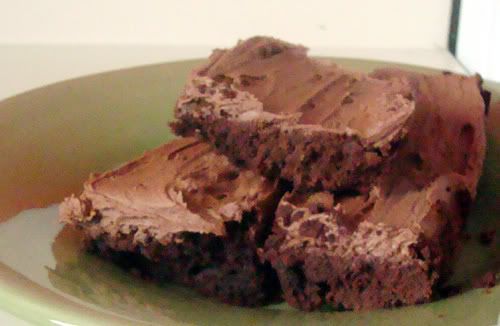 I love the icing that I've paired with these brownies because it is so versatile! This is my favorite icing ever! This recipe makes 1 1/2 cups of icing.



Chocolate Brownies


2/3 cup butter

5 oz bittersweet baking chocolate

1 3/4 cups sugar

2 tsp vanilla

3 eggs

1 cup flour

1 cup walnuts
2 tbsp strong coffee or 1 tsp espresso powder


Heat oven to 350 degrees. Grease bottom of a 13 X 9 inch pan with shortening.
Melt butter and chocolate in a sauce pan on the stove, over low heat, stirring constantly. Cool 5 minutes.


Beat sugar, vanilla, and eggs together on high for 5 minutes. Beat in cooled chocolate mixture on low. Then beat in flour just until it is blended. Do not overmix. Add walnuts & coffee then spread in pan.
Bake about 30 minutes. Cool completely on a wire rack before applying icing. Cut and enjoy.
Buttercream Icing


1 stick (8 tbsp) unsalted butter, room temperature

2 cups confectioners sugar

1/2 tsp vanilla


With an electric mixer beat butter until light and fluffy. Then reduce the speed down to medium and add the sugar 1/2 cup at a time. Be warned that because of the airiness of the sugar it tends to fly around a bit. Scrape the bowl well after each addition or as necessary. Mix in the vanilla
in at this point. Increase speed to high and beat about 5 minutes or until light and fluffy.


Icing Variations -


Chocolate Buttercream
- prepare Vanilla Buttercream as described above. Melt 4 oz of bittersweet chocolate on the stove top on low, stirring constantly, about 2-3 minutes. Remove from heat and cool completely before adding to the Buttercream.


Berry Buttercream
- prepare Vanilla Buttercream as described above. Mix in 3-4 tsp of your favorite berry jam. This isn't really suitable for these brownies, but they are fantastic on cupcakes! (but that's another entry!)


Chocolate Vegan Icing
#1
-


1 cup sugar

6 tbsp corn starch

4 tbsp cocoa

1/2 tsp salt

2 tbsp oil

1 cup water

1/2 tsp vanilla


Mix sugar, cornstarch, salt, and cocoa in a medium sauce pan. Whisk in the water. Heat over medium until it gets thick and starts to boil. Boil for 1-2 minutes (make sure you don't boil too long, or it will set like toffee). Remove from heat and stir in oil and vanilla






Chocolate Vegan Icing #2

-


1 1/2 cups unsweetened cocoa

1 1/2 cups sugar

2/3 cups corn starch

2 cups soy milk (i like to use vanilla flavored personally)

1/2 tsp vanilla (possibly omit if using vanilla soymilk)


In a medium sauce pan whisk together sugar and cocoa. In a separate mixing bowl whisk together the corn starch and soy milk until no lumps are left then add that to the saucepan. Cook this over medium heat, scraping the bowl constantly, until the mixture is glossy, About 7 minutes or so. remove from heat and add the vanilla. Cool completely before adding to cupcakes.