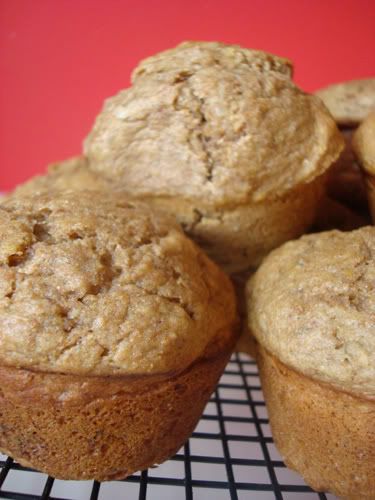 Not only are these muffins insanely good but they are also insanely good for you! No sugar, white flour, and minimal oils used make this recipe an excellent snack at any hour of the day. We love them for breakfast especially, try them heated slightly with a dollop of vanilla yogurt or peanut butter on top! A great source of fiber, folic acid, and potassium and they are low in fat. My favorite part is that they are so portable that I can give them to the kids on the go with no guilt! These are easy to freeze for later too.
WHOLE WHEAT BANANA MUFFINS
3 1/2 cups whole wheat flour
2 tsp baking soda
1 tsp salt
2 tsp wheat germ
1/2 tsp cinnamon
2 tsp baking powder
1/3 cup unsweetened applesauce
4 oz cream cheese
2 tbsp olive oil
1 cup honey
3 eggs
1 tbsp flax seeds
3 tbsp hot water
2 cups smooshed ripe bananas (3-5 bananas)
1/2 cup hot water
1. Stir together flour, baking soda, salt, and wheat germ.
2. Beat together olive applesauce, cream cheese, honey & baking powder. Then add olive oil.
3. Mix hot water with flax seeds and set aside to allow to dissolve. Meanwhile, beat in eggs one at a time, making sure to combine well before adding the next. After all eggs are in, add flax seeds.
4. Add bananas and mix until combined
5. Add dry ingredients to wet, alternating with hot water; mix well after each addition.
6. Spoon batter into 24 greased muffin cups; bake at 325 degrees for 22-25 minutes, or until muffins are golden brown and test done.
7. Remove from oven and cool on rack.
Try one of the optional variations: 1 tsp vanilla, 1/4 cup peanut butter, 1/4 cup frozen or fresh blueberries, 3/4 cup walnuts or pecans