I am a bit of a nerd, surprised I know. Because of these leanings I always remember that March 14 is Pi Day. You know, 3.14159 etc. Get it? 3.14? So to celebrate the day I give you my favorite apple pi(e) recipe today.


Apple Pie

crust

1/2 cup water, ice cold

2 cups flour

1/2 tsp salt

1 1/2 sticks of cold butter


In a bowl, mix together flour and salt. Omit salt if you are using salted butter by the way. My secret to getting the butter into the flour well is to get out my grater and sort of shave it into the bowl. It saves time too! If grating isn't your style cup the butter into 1/4 inch pieces. It doesn't have to be exact, in fact i love irregular pieces here and there that are extra flaky. Work the butter into the flour mixture for a few minutes before slowly adding the ice water little by little until it forms a good consistency. Then cut the dough in half and flatten each one. At this point I wrap them up in plastic and put them into the fridge for about an hour to rest and firm up.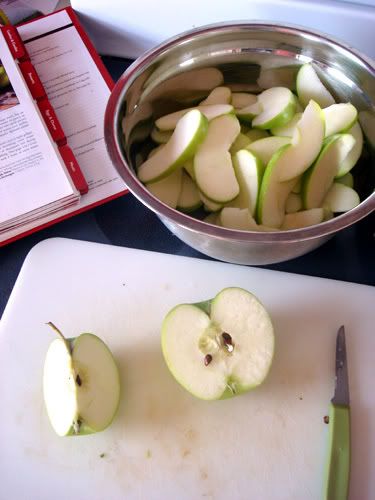 A word on apples before I go on. Not every apple is ideal for baking. Some are sweet, others tart. In my (and many others) opinion(s) the best apples for baking are: Granny Smith, Greening, Rome, & Newton Pippin.


filling

8 cups of apples, thinly sliced
dash of salt

1/2 tsp cinnamon

1/2 tsp nutmeg

2/3 cup sugar

1/4 cup flour
handful of caramels (if you're
feeling frisky)


Wash, pare, and thinly slice the apples. The caramels are totally optional but I really love what they add do the pie.

In a saucepan combine all of the filling ingredients and cover & cook over medium heat for about 10 minutes. By this point moisture from the apples should have worked it's way out and will be creating a bubbly sauce. At the end of 10 minutes take off the lid and stir it until the consistency is right. Remove from heat.


Preheat oven to 325


After the crust has rested in the fridge for an hour, flour up your counter and rolling pin and start rolling it out until it fits inside a pie dish. Then add the filling and do the same for the top crust, making sure you cut slits, or an X, or whatevera in the top before putting it in the oven.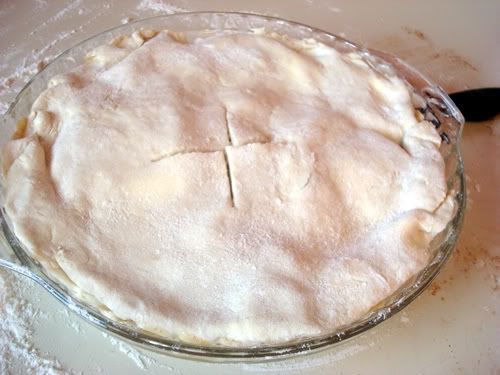 Bake for 40-50 minutes but let your eyes and nose tell you when the pie is gone. If it's flaking and beautiful, it's done.


My husband thanks me for my apple pies. As you can see, he's kind of a fan of such things.