When any of my friends has a baby I make these cookies for them. It helps boost a woman's milk supply with the use of the flax seeds, oats, and brewer's yeast. Though rest assured this recipe will not make you lactate or do anything funny if you're not a new mother :)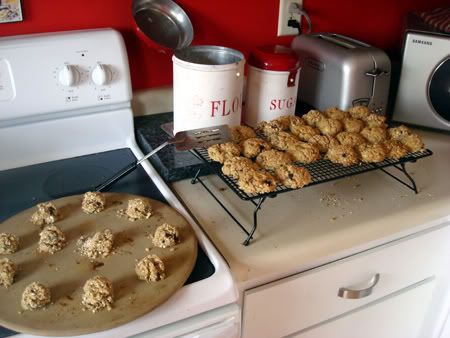 Oatmeal Chocolate Chip Lactation Cookies
1 cup butter
1 cup sugar
1 cup firmly packed brown sugar
4 tbsp water
2 tbsp flaxseed
2 eggs
1 tsp vanilla
2 cups flour
1 tsp baking soda
1 tsp salt
3 cups rolled oats
1 cup chocolate chips
2-4 tbsp brewer's yeast
Preheat your oven to 350 degrees.
In a small bowl mix together the water and flaxseeds. Set aside for 3-5 minutes*
Beat together sugars and butter until creamy. Add the eggs one at a time, mixing well in between each addition. Add the flaxseeds and vanilla. Again, beat well.
In a small mixing bowl sift together the flour, baking soda, oats, chocolate chips, and salt. Then add this to the buttery ingredients. Be careful not to overmix of your cookies will become tough.
Scoop onto baking sheet and bake for 12 minutes or until golden brown. Cool on a wire rack.
*This method is great for subbing in all kinds of baking situations where you lack an egg. Just don't try it with an omelet!